If you think of places where you are likely to find a swimming pool, you will likely think of a hotel, a mansion, a leisure centre, or in somebody's back garden. Not many people will turn around and say at a cricket stadium, unless they have been to watch cricket at the Gabba in Brisbane.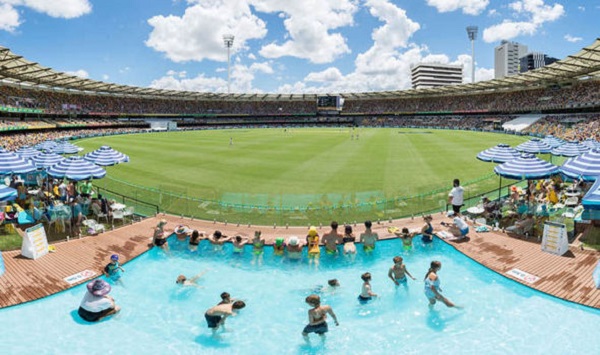 Why is There a Swimming Pool at the Gabba?
The swimming pool, which is known as the Pool Deck, is a 32,000 litre pool that was built back in 2016. It was first opened to spectators during the day/night test match against Pakistan later that year.
But why? This is a question that we bet you are all asking right now. Well, the attendance at this famous cricket ground had been dropping quite alarmingly, so those in charge thought that something unique had to be done to increase attendance levels. The unique idea that they eventually came up with was to add a swimming pool to one of the grandstands. There is a clear glass separating the pool from the pitch, so those who are cooling off can still stay up to date with what is happening on the field.
Did Their Plan Work?
Well, the pool can hold up to 140 cricket lovers and, after one year, it was revealed that more than 1,400 people had made use of the pool. One man even proposed to his fiancée in the pool during Ashes test there in 2017. Therefore, it can be argued that the pool had the effect that those who decided to have it installed thought it could have.
However, despite it being popular with some cricket fans (and the owner of https://www.cricket-betting-tip.in/), many others have slated it saying that it is just not cricket. In their opinion, anyone who is truly interested in cricket, will not have any interest at all about going into the pool. Furthermore, other true cricket fans have said that the pool could actually cause disruptions to the game itself. How is that? Well, the pool is right next to the boundary rope, so if a batsman hits a six and it enters the pool, the ball will get waterlogged and will no longer be able to be used. Therefore, the play will have to be stopped while a new ball is being found.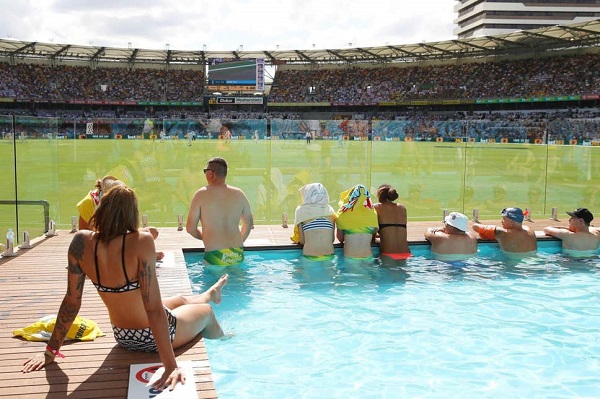 How Do You Get into the Pool?
Well, if you want to take a dip in the pool, then you have to turn up to the match in your best swimming costumes. This is because supporters are picked at random to be allowed into the pool area. It is as simple as that. Supporters that get chosen are allotted a period of time that they can remain in the pool for. This is to try and ensure that all those who want a dip can have one at some stage during the match.
Other Stadiums Liked This Idea and Added a Pool Too
When such ideas are born, it is only a matter of time before somebody else likes what they see and decide that they want a piece of the action too. This is exactly what the Kensington Oval in Bridgetown, Barbados, did. Fans can watch the West Indies smash the ball to all parts of the stands while cooling down in a beautiful pool.
The Motera cricket stadium, which is currently being built in New Delhi, is going to be the biggest cricket stadium in the world. It will be able to hold up to 110,000 spectators, which is 10,000 more than the Melbourne Cricket Ground, which is the current largest cricket stadium in the world. This stadium will become the first venue in India that has LED floodlights as well as the first stadium to have an Olympic-sized pool in it. Obviously, this will not be in one of the stands, but fans will be able to make use of it when there is a break in play, be that at lunch time or if play is delayed due to poor weather conditions.